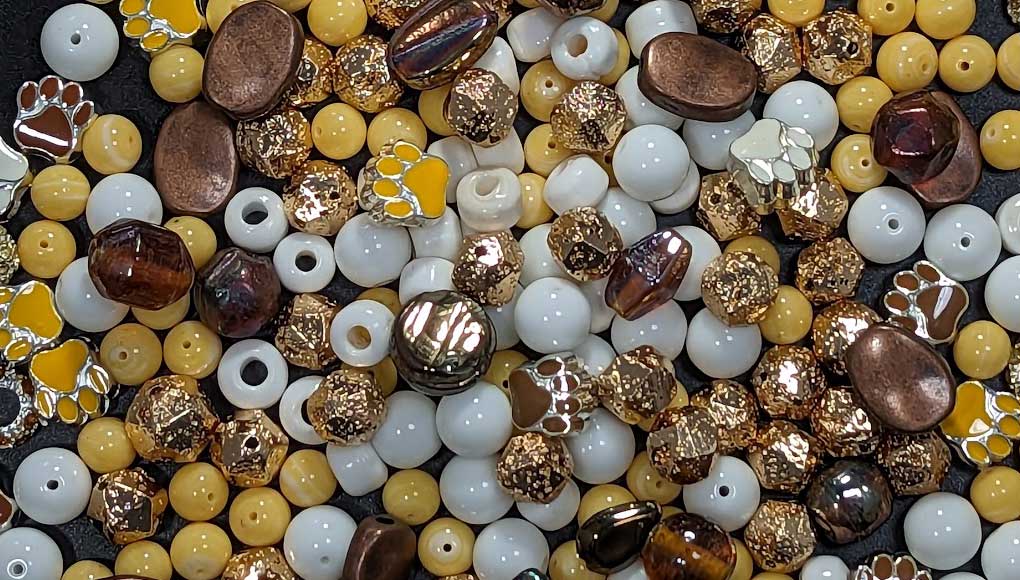 Play Ball!  That phrase isn't just for your pooch (or kitty!) to play fetch.  Baseball Season is here so show your team spirit!   We know you've gone out to buy yourself a new baseball hat or team jersey supporting your favorite player and team – doesn't your favorite furry friend also deserve some baseball bling?
Introducing our new, entirely customizable cat, dog pet necklaces for the baseball season.  While you're out shopping for your baseball team's fan gear, check out our custom pet baseball fan gear.
Jewels Fur Paws carries a wide variety of high-end beads, stones, and jewels to create the perfect one-of-a-kind baseball pet merch for your baseball viewing buddy.  We also carry a selection of baseball-themed charms such as silver baseballs, bats, bats with balls, and more.  Contact us to get your custom baseball pet necklace today.  Our beads, spacers and stones are of such high quality, that they're perfect for the fur baby Mommy as well.  The larger sizes can be necklaces and the smaller sizes bracelets.  Show your team spirit today!
American League Central
Chicago White Sox, Cleveland Guardians,  Detroit Tigers, Kansas City Royals, Minnesota Twins
American League East
Baltimore Orioles, Boston Red Sox, New York Yankees, Tampa Bay Rays, Toronto Blue Jays
American League West
Houston Astros, Los Angeles Angels, Oakland Athletics, Seattle Mariners, Texas Rangers
National League Central
Chicago Cubs, Cincinnati Reds, Milwaukee Brewers, Pittsburgh Pirates, St. Louis Cardinals
National League East
Atlanta Braves, Miami Marlins, New York Mets, Philadelphia Phillies, Washington Nationals
National League West
Arizona Diamondbacks, Colorado Rockies, Los Angeles Dodgers, San Diego Padres, San Francisco Giants
About the author : d'Arcy Muller
Related posts
Popular products
Product categories